As soon as the Banksy Was Here exhibition opened in Philly, people were raving about it—and rightfully so. The experience takes you into the world of the most famous street artist in the world, unveiling his secretive persona through 80+ of his authentic pieces. From revelation-filled footage to special replicas, a mysterious Banksy universe awaits at the heart of 901 Market Street Suite 1150.
Banksy has always been unafraid to make a statement. His work is notably satirical, providing uncomfortable but needed commentary on sociopolitical issues around the world. At this exhibition, you'll learn even more about his opinions, his questioning, and ultimately—his values. Nothing is off-limits: expect conversations surrounding environmental issues, capitalism, major corporations, and much more.
Experience for yourself the exhibit that charmed Philadelphia!
Banksy Was Here features original prints, mixed media, and sculptures among other multimedia art. Very quickly, new revelations on the artist and his opinionated pieces come to the forefront. The immersive exhibit highlights the timeline of the street artist's work, diving into Banksy's creative process. Authentic Banksy pieces, lent to the exhibit by private collectors, allow you to process and understand the pieces in an introspective light.
Over 80 original works will be featured, along with reproduced pieces that use an ultra-realistic printing technique. It's a known fact: Banksy's work is highly protected and has been sold at a few auctions for millions of dollars, and this exhibit will give you the rare opportunity to come face-to-face with the street artist's most precious pieces.
The Philadelphia audience was taken aback at the immersive nature of this exhibit, coming out of the experience with profound admiration for the most famous street artist in the world:
👉 "I loved the exhibit. It was set up in a way that it was not only fun but educational." A. L.

👉 "Great exhibit very well presented – more there than I thought and lots of fun and interesting. Interactive & educational components – comfy setting, friendly staff" D. H.

👉 "All the staff were super friendly. The exhibit was amazing! I recommend the VR experience,so cool!!!" N. C.

👉 "Great show, good insight as to who Banksy is and what the artist represents." S. L.
Banksy Was Here made its debut in Philly on December 3, and has taken the city by storm. Tickets are $33.90 for general admission and $20.90 for children, but you can also purchase a family ticket or VIP package!
Opening hours:
– Mondays, Thursdays & Sundays: 10 a.m. – 7 p.m.
– Fridays & Saturdays: 10 a.m. – 8 p.m.
Time slots are available every half hour and the visit will take 60 to 90 minutes to complete, giving you plenty of time to indulge in the elusive artist's work.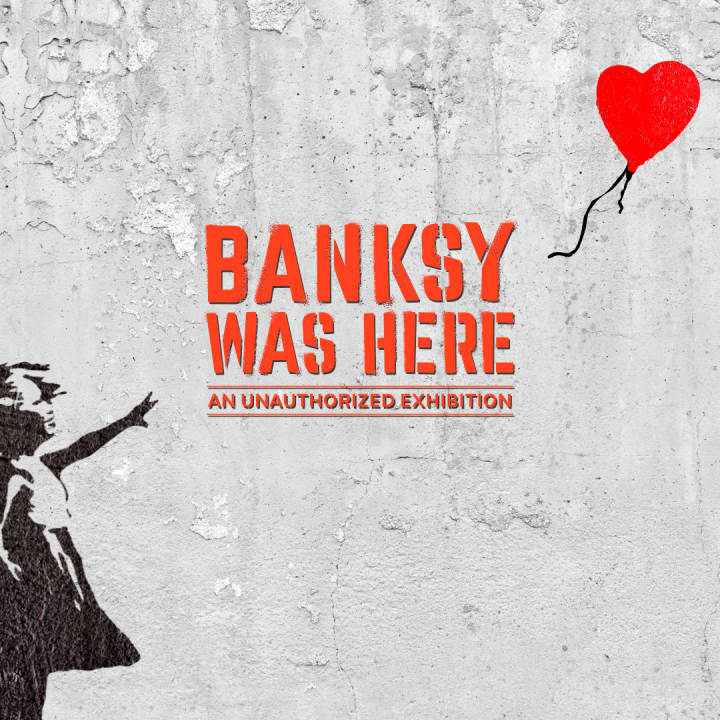 Banksy Was Here: The Exhibition
---